Hints And Tips - Your First 5 Minutes With The Program...
Last Updated: September 24th, 2008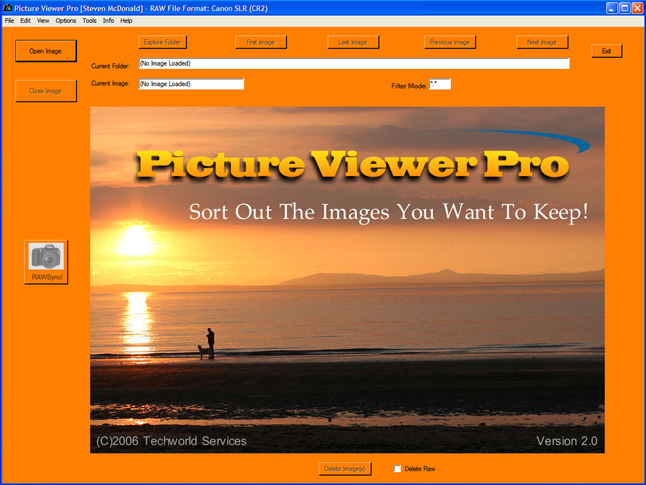 As soon as you have opened up a file, run the cursor over it and notice it changes to a hand. Click on the picture itself to enter fullscreen mode (or press "F"). Do the same thing again to come out of fullscreen mode! Press Esc to shut the program down quickly.
If the program is not running, you can just browse using windows to find a folder with pictures in it on your hard drive and then double click on any supported image type eg. a JPG or BMP file etc. and Picture Viewer Pro will open up showing that file for you. It is fast to open and you can instantly scroll to the next image using the mouse wheel or the Page Up and Page Down keys.
Set the most appropriate colour scheme, depending on what you are doing. For example, green for plants and scenery, orange for holiday snaps, neutral grey for technical evaluation etc. The scheme you set is only used for windowed mode and is remembered the next time you start up Picture Viewer Pro.
When viewing in fullscreen mode, get used to pressing the "L" key to expand smaller images to fit as best they can.
When you press "W" to set the current file to your Windows Wallpaper, a special copy of the file is made in Bmp format in "My Pictures" – in the "Picture Viewer Pro\Wallpaper" subfolder. The file is called "Current Wallpaper.bmp". It also saves a conversion of your original file in there too for convenience (with the original filename but with a .bmp extension, as it has been converted to this format).
Note that all files generated by Picture Viewer Pro are stored in this "Picture Viewer Pro" subfolder so if you want to know where anything went, that's your answer!
If you are viewing a file in colour, you can press "G" to go into greyscale mode. If you press "W" to set that as your wallpaper, it will store the greyscale version permanently as your Windows wallpaper!
You can change slideshow playback speeds during a slideshow, therefore if you are in a folder with 200 pictures, you can press "0" to go to full speed until you reach the part you want (e.g. 70%) then switch back to one of the normal viewing speeds again. Essentially a fast-forward mode!
Don't forget that a lot of keys work during a slideshow – see above for detailed list.
If you are in windowed mode, use windows file explorer to get up pictures you want to view then just drag and drop them onto Picture Viewer Pro.
Save time and use the "Explorer Folder" button to open up the current folder using windows file explorer.
Don't forget about the system tray menu, near the clock on the bottom right of the screen – double click that to open up the program, if you have hidden it beforehand ("H" key). Also, you can right click on this to bring up a context menu with options on it.
If you are viewing in fullscreen mode, selecting files for processing, you can hit the "T" key for transparency and immediately see the clock on the bottom right, should you be time watching etc. Another keypress and it's away again!
Windowed mode has a default picture box aspect ratio size of 3:2. As you view other aspect ratio pictures, this can change. If the program recognises the current aspect ratio as a common one (e.g. 16:9, 3:4, 5:4, 2.35:1), then this is reported below the bottom right of the picture.
Picture Viewer Pro is a pretty "Safe" program to use, in that it always puts any deleted files into the recycle bin for later retrieval should you make a mistake!